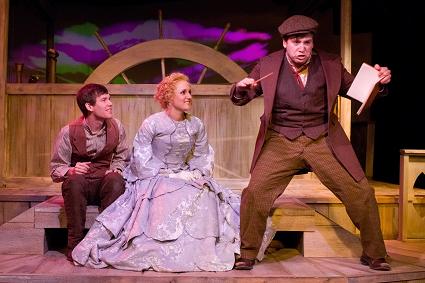 Book & Lyrics by Douglas M. Parker, Music by Denver Casado
Few literary names are more recognized, and few literary works are more well-loved than those of Mark Twain. But arguably his most fascinating story is not one that he wrote, but the one that he lived.
In "Life on the Mississippi," a new musical based on Mark Twain's autobiographical coming-of-age classic, the young Samuel Clemens leaves home to  learn steamboat piloting on a Mississippi riverboat in 1858 and, in the process, finds himself learning about life. And love. And death. And writing. All while navigating his way from boy to man and from Sam Clemens to Mark Twain.
The young audience version of Life on the Mississippi premiered at the Coterie Theatre in Kansas City on January 29th, 2010 with a successful five-week run. The full-length version premiered June 22nd, 2010 at American Folklore Theatre in Door County, WI with a ten-week run.
Production History
Goodspeed Opera House – Festival of New Artists (January 2008)
East Haddam, CT
Coterie Theater (January 2010)
Kansas City, MI
American Folklore Theater (Summer 2010)
Door Country, WI
Reviews
"…Denver Casado's melodies fit the river life. Capably handled by musical director Daniel Doss' three-piece piano-and-strings combo, the songs unspool with an easy naturalness, like a journey where one horizon follows another."
ThePitch.com
"…these musicians create music ranging from comical to tense, teasing to somber in support of scenes depicting boyish horseplay, tender romance, harsh admonishment, and unexpected tragedy…. The action is nimble and paced well, but it is the dialogue and song that provide the most sparks. "
PresentMagazine.com
"LIFE ON THE MISSISSIPPI is a nicely turned new musical that honors the early life and writing career of the man who called himself Mark Twain. …it's a well-acted, handsomely presented show…"
The Kansas City Star
"4 out of 4 stars! New York-based creators Douglas M. Parker (book and lyrics) and Denver Casado (music) give Twain's autobiographical book, "Life on the Mississippi," new vitality."
The Green Bay Gazette
"One of AFT's best shows – grand, ambitious entertainment that dazzles!"
The Door County Advocate
Gallery
Coterie Theater