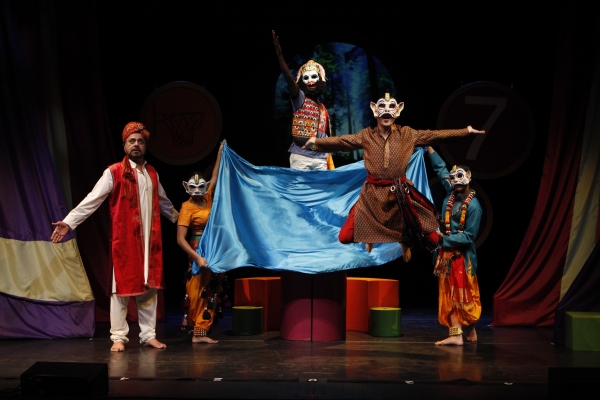 Book and Lyrics by Gwynne Watkins, Music by Denver Casado
Tea with Chachaji is a Bollywood-inspired musical about a New York City kid who must reconcile his Indian heritage with his modern American life.
The musical tells the story of ten-year-old Neel Gupta, who lives in the "Little India" section of Queens with his Indian mother and great-uncle Chachaji. Neel has grown up hearing Chachaji's lively stories about Indian gods – but he has never heard the heartbreaking story behind his uncle's beloved teacup, which survived the Partition of India.  As Neel grows older and starts to spend more time with his American friends, he tries to distance himself from his Indian roots. But when Neel accidentally does something terrible, he realizes the importance of Chachaji's stories – and understands finally how to reconcile his two worlds.
The one-hour show is brought to life with 12 original songs, which blend various musical styles — Bollywood, traditional Indian ragas, even hip-hop – into a contemporary musical-theater score.
Tea with Chachaji is based on the book Chachaji's Cup written by Uma Krishnaswami and illustrated by Soumya Sitarama.
Production History
Tribeca Performing Arts Center  (January 2010)
New York, NY
Stanford Lively Performing Arts Center (March 2010)
Palo Alto, CA
Press
Inside "Tea with Chachaji" – By Gwen Orell  (March, 2010)
TDF: Troubled History as Family Theater – By Marc Blankenship  (January, 2010)
Q&A with Bookwriter & Lyricist Gwynne Watkins  (January, 2010)
Q&A with Composer Denver Casado (January, 2010)
Reviews
"Tea with Chachaji achieves the triple-crown of family theater…Casado's eclectic score smartly mixes traditional theater songs, Indian-flavored melodies, and touches of rap. I especially enjoyed the tasty arrangements for guitar, keyboards, percussion, and sitar."
Backstage.com (full review)
"…a tender and moving comedy-drama… Denver Casado has woven Bollywood strains, traditional Indian music, American pop and heartfelt ballads into the score of this hourlong show…"
The New York Times (full review)
"…an intelligent and warm story that spans ages and cultures. TEA WITH CHACHAJI is an emotionally satisfying and intellectually interesting musical about the power of stories…"
NYTheatre.com  (full review)
"Watkins and Casado have teamed up to harness the best of Broadway story structure, complete with fun dance numbers, emotional narrative pieces, and stirring solo lines….the score cleverly integrates Indian motifs and instruments…the intricate modal melodies of India vigorously stirred into the strong stock of (quite excellent) Broadway song writing."
Theasy.com (full review)
Gallery